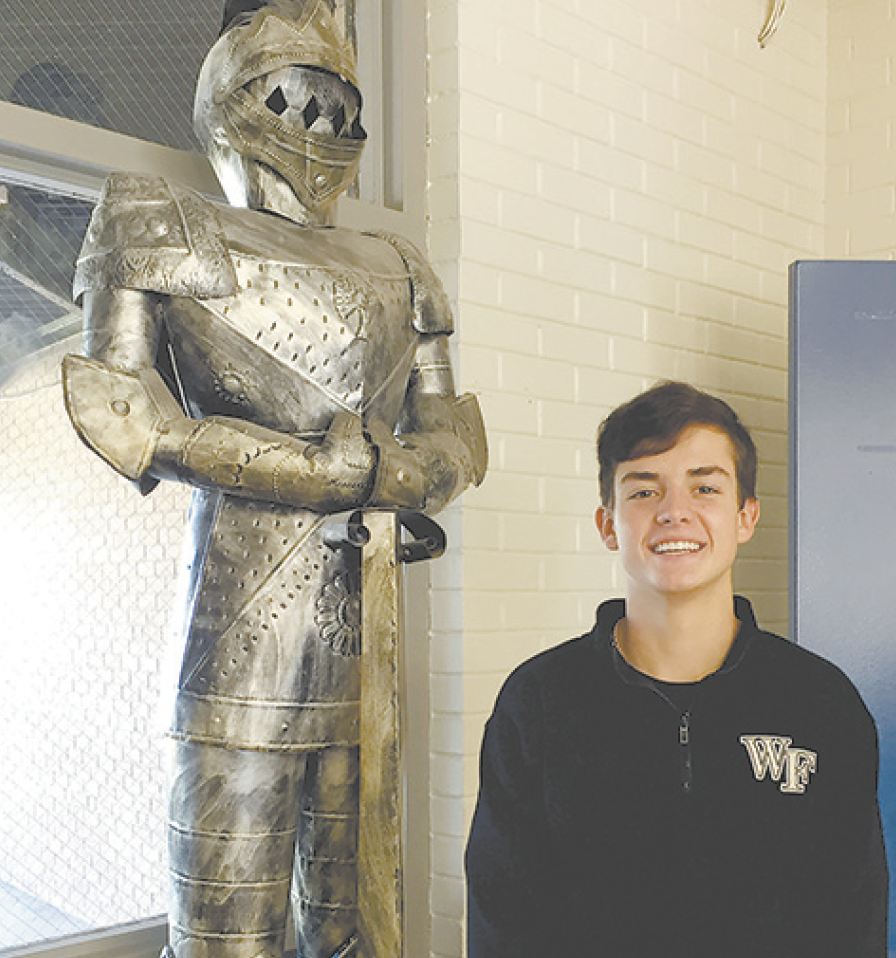 CHS Ironmen's Kadin Beaver
selected for Queen City Senior Bowl
One of 16 high school standouts picked for Dec. 18 game

by MICHAEL E. POWELL
Editor
michael@cfmedia.info

Cherryville High football player and senior Kadin Beaver is one of 16 local high school gridiron young men selected to play in the 2021 Queen City Senior Bowl, to be held at Charlotte's Olympic High School, located at 4301 Sandy Porter Rd., Charlotte, on Dec. 18. The kickoff time is scheduled for 1 p.m., according to information on the QCSB website.
The mission of the bowl game is, as noted on the event description section of the website, is "…to create a memorable and rewarding experience for the best high school football players and coaches" in Charlotte/Mecklenburg and the counties surrounding the Queen City – counties such as Gaston, Cleveland, Cabarrus, and Union.
The teams are divided into East and West teams with Beaver being selected as the long snapper for the West team, he said recently.
Beaver, 18, has been at  CHS all four years, he said, adding his family moved to Cherryville from Gastonia when he was in the seventh grade. He attended John Chavis Middle School and played football there for Coaches Terry Moss and, later Seth Hartman.
Kadin said his mom, Ashlye, found out about the Queen City Senior Bowl, got the information and they submitted his name for possible selection in the bowl game.
"I was told they had 500 kids that applied," Beaver noted, adding it was clearly an honor for him to have been selected from that large group of young men.
His parents, Ashlye and Buster Beaver, said of his selection, "We are very proud of him and for him."
Kadin will be joined by the Mountain Island Raptor's Dylan Bisson (QB) and WR Trae Nickelson (WR); South Point Red Raider RB Tyson Riley; Highland Tech Rams TE Trent Dockery; North Gaston Wildcat WR Brian Coley; Kings Mountain Mountaineer OL Tykel Smith; Crest Charger's OL Taree Watkins and LB Nick Beason; Stuart Cramer Storm's DL Arias Nash; Ashbrook Green Wave's DL Jonathan Derricott; Burns Bulldog's LB Azari Brown; Forestview Jaguar's LB Jaycob Neely and ATH Camury Reid; Shelby Golden Lions DB Nathan Hopper Shelby; and East Gaston Warrior ATH Justin Hill.
The web site noted the coaches for the West team are: North Gaston's Justin Clark, Highland Tech's Pedro Truesdale, and Burns coach David Devine.
Beaver noted the teams will practice at Olympic HS starting Dec. 13 through 17, and will play Saturday, Dec. 18, also at OHS.
As for his future plans, Beaver said he hopes to be a long snapper in college and his number one college choice is Wake Forest as a walk-on hopeful. In his high school career, Beaver has played the long snapper position for the Ironmen, as well as tight end and quarterback.