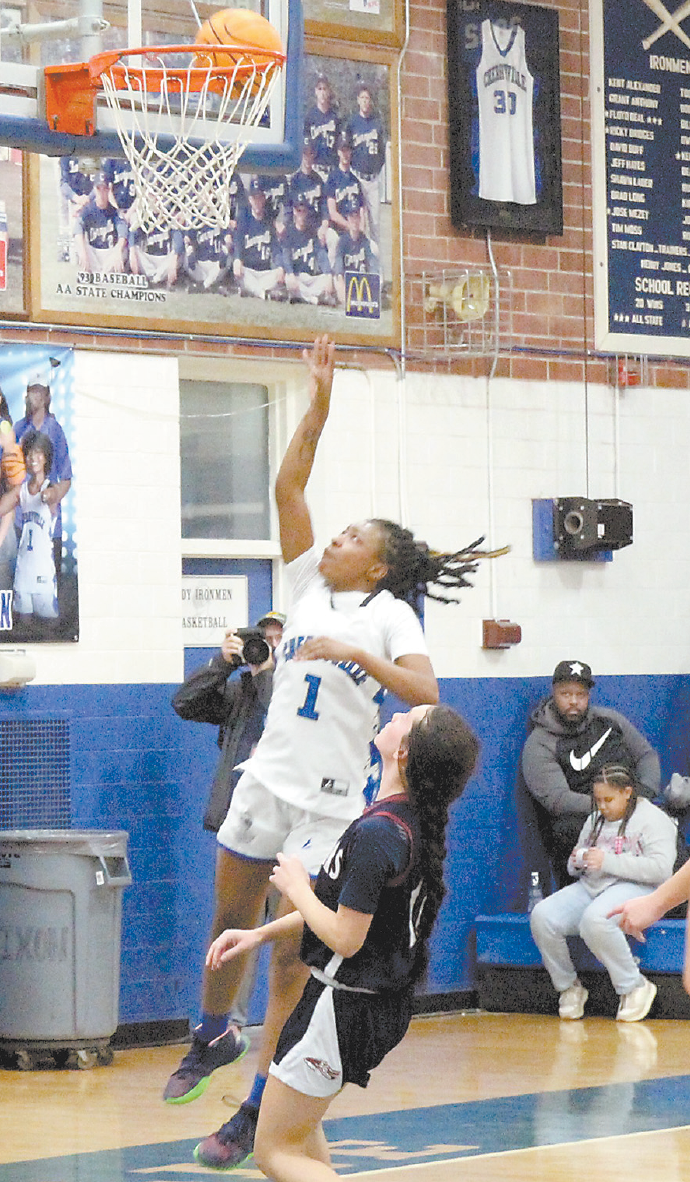 CHS Ironmen hoops men currently 9-9 overall; 2-5 in SPC 1A/2A
Ladies are currently 3-15 overall and
0-7 in 1A/2A playby MICHAEL E. POWELL
Editor
michael@cfmedia.info
The CHS Ironmen hoops teams played three games last week losing winning three and losing three. The teams they faced were: the East Gaston Warriors (conference); the Pinnacle Classical Academy Eagles (non-conference); and the Thomas Jefferson Classical Academy Gryphons (conference).
Against East Gaston
The Warriors teams came to Nixon Gym on Tuesday, Jan. 17 and played the Ironmen. Of the three CHS teams that played that day, the JV's were the only team to win their matchup (47-39),
The CHS Lady Ironmen game followed and the ladies fought a good fight against the Lady Warriors but still lost by a score of 37-53. The only Lady Ironman in double figures in this one was Raylei Gidney, with 10 points. Gabbie McCorkle scored 9 points; Krista Davis scored 8 points; and Laila Davis and Evionna McDowell had 4 points apiece. Emily Allen had 2 points.
The varsity men came onto the Bud Black Court and battled the Warriors men's team, losing to them by a score of 64-76. High scorers for Coach Harrill's men in this one were Carson Kelly (17 pts.); Darrien Floyd (15 pts.); Landon Hahn (12 pts.); and Numarius Good (10 pts.). Nate Bookout had 8 points and Andron Patterson made 2 points.
Against Pinnacle
Classical Academy
The Pinnacle Classical Academy Eagles visited Nixon Gym on Wednesday, Jan. 18, for a non-conference matchup but lost both of their varsity games to the Ironmen roundball teams.
Coach Carrie Dalton said her ladies triumphed over the Lady Eagle by a score of 48-28.
The Ironmen varsity boys clipped the Eagles' wings by a score of 92-59.
Against Thomas
Jefferson Classical Academy
The Gryphons of Thomas Jefferson Classical Academy came to Nixon Gym on Friday, Jan. 20, and played the Ironmen varsity teams.
In the girl's game, the Lady Ironmen lost to the Lady Gryphons by a score of 42-55. Scoring in double figures for the CHS ladies were senior Gabbie McCorkle (18 points) and Krista Davis (10 points). Raylei Gidney and Evionna McDowell each scored 4 points apiece, with Emily Allen getting 3 points. Rounding out the ladies' score were Laila Davis with 2 points and Ceniya Powell with one point.
The CHS men took to the court against the TJCA Gryphons and soundly defeated them by a score of 81-46.
Coach Harrill had three players in double digits with Carson Kelly scoring 24 points (18 points off of three-point shots alone!); Numarius Good with 14; and Landon Hahn with 10 points. They were followed by Darrien Floyd with 7 points; Rayshawn Sewell and Ethan Honeyman with 6 points apiece; Nate Bookout with 5 points and Steven Brown with 5 points.
The Ironmen will be away this week at Shelby and BCHS.
The men are currently 9-9 overall and 2-5 in SPC 1A/2A play, and the ladies are currently 3-15 overall and 0-7 in 1A/2A play
(Additional info and stats by Susan L. Powell)