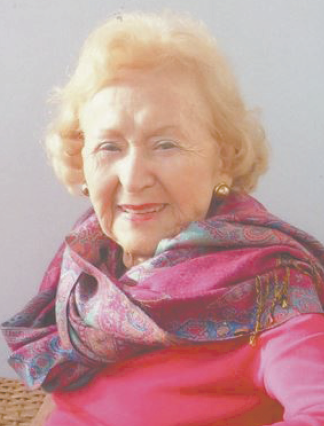 Karleen Gaskins Price
CHERRYVILLE – Karleen Beam Gaskins Price passed away on Monday, Jan. 17, 2022. The daughter of Marvin Stowe and Bryte Beam Beam, she was born in Lincoln County on July 10, 1926.
Karleen graduated from North Brook High School, where she served on the yearbook staff, and was a member of the debate, glee, commercial, and library clubs. She also served on the cheerleading squad. Receiving her Bachelor of Arts degree in business education from Lenoir-Rhyne College, she later pursued graduate study at Western Carolina University.
One of the highlights of her life was spending the summer of 1945 in Washington, D. C., working at the US Census Bureau. She was thrilled to have the opportunity to celebrate VJ Day on the Capitol steps.
Upon graduation from Lenoir-Rhyne in 1947, Karleen went to work for her father at Cherry Motors of Cherryville. While there, she met the love of her life, Tracy Leland Gaskins, Jr., originally from New Bern. After a whirlwind courtship, the two were married on Oct. 3, 1948. Three children, Debra Karleen, Mary Suzanne, and Tracy Leland III, were born to this union.
In addition to raising the children, Karleen spent the 1950s and early 1960s teaching typing, business courses, English, and Spanish at North Brook High School, while also directing the junior class play and sponsoring the "The Babbling Brook", the school newspaper. The class of 1959 dedicated the yearbook, "Le Souvenir", to her. She was also the accountant for Tracy's auto dealerships. In 1963, she was one of the pioneers who developed the Exceptional Children's program for the Lincoln County Schools.
While a member of Bethlehem United Methodist Church, Karleen taught both Sunday School and Vacation Bible School. She was also a member of the Parsonage Committee and chaired the Christian Education Committee.
At First United Methodist Church of Cherryville, she served on the Parsonage Committee, the Finance Committee, and as a circle chairman. 
In 1970, Karleen became the accounting manager of Marvin S. Beam, Inc., her father's Ford dealership. Later she became an authorized Ford dealer, joining her father on the Ford Motor Company sales and service agreement.      
Quite active in the Cherryville community, Karleen was a member of the Cherryville Music Club, the Readers' Book Club, and the Dancing Cherries. She was also a charter member of the Cheri-Weeders Garden Club, a Life Member of the Order of the Eastern Star, president of the Village Garden Club, and a board member of the Cherryville Historical Museum. Additionally, she was an organizing and charter member, as well as Regent, of the Tryon Resolves Chapter, National Society Daughters of the American Revolution.
Karleen loved shopping, dancing, and parties. She was especially devoted to her children, grandchildren and great-grandchildren. Another of her passions was travel, as she visited most of the US and Caribbean and made several trips to Western Europe, as well as one to Eastern Europe. She also journeyed to Hong Kong and visited Japan twice.
Karleen was preceded in death by her parents and husband, Tracy Leland Gaskins, Jr. In 1987, she married Harry Carroll Price, Jr., who also preceded her in death.
She is survived by daughters, Debra Gaskins Beam (George) of Cherryville, NC; Suzanne Gaskins Rudisill of Greenville, SC; a son, Tracy Leland Gaskins III (Carolyn) of Tokyo, Japan; granddaughters, Ashley Rudisill Forbes (Scott) of Greenville, SC; Chelsea Michelle Rudisill (Luke Browder) of Irmo, SC; Courtney Beam Brett (Jonathan) of Barnsley, United Kingdom; and great-grandsons, Jackson Scott Forbes and Reid Harrison Forbes of Greenville, SC.
The family would like to thank their wonderful team of caregivers and the employees of Hospice of Cleveland County.
Karleen lay in repose at Carpenter – Porter Funeral Home on Monday, Jan. 24, 2022 from 12 to 4 p.m. Due to the threat of COVID-19, the family was not present. A formal memorial service is planned for late spring.
To honor Karleen, donations may be made to First United Methodist Church, 601 North Pink St., Cherryville, NC, 28021; the Bess Chapel United Methodist Church Cemetery Fund, c/o Linda Towery, 2357 Bess Chapel Church Rd., Cherryville, NC, 28021; Hospice of Cleveland County, 951 Wendover Heights Dr., Shelby, NC, 28150, or the charity of the donor's choice.
Condolences may be made to www.carpenterporter.com.
Carpenter – Porter Funeral and Cremation Services served the family of Mrs. Price.