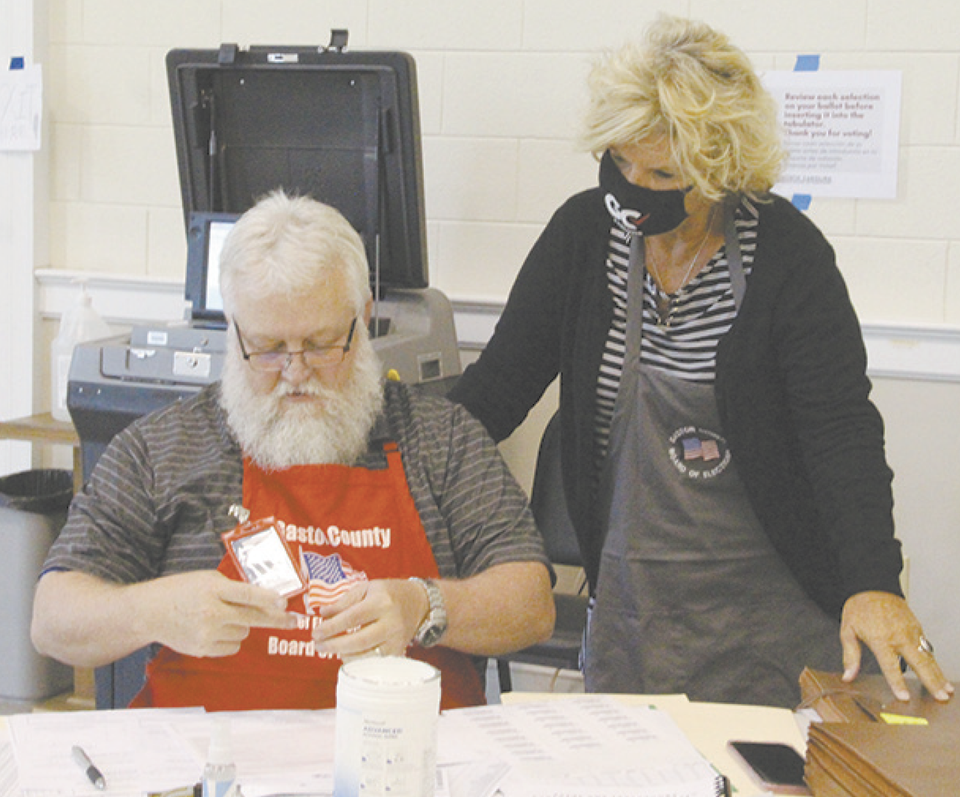 High voter turnout as Cherryville; Gaston County go 'red' for Trump, Republicans
All vote numbers unofficial until count is complete

by MICHAEL E. POWELL
Editor
michael@cfmedia.info

In what has been described as the biggest voter turnout in recent American history or memory, the citizens of Cherryville, Gaston County, and the citizens of the entire United States turned out in record numbers to vote.
We are now into Election Day plus eight, and, as of this writing, it appears we may have a new President in the person of the projected winner, at least by electoral standards and numbers, in former VP Joe Biden.
However, not all the numbers are in and all is still unofficial in spite of which news/media agency or polling group calls it.
That said, Mr. Biden's projected win status is, as we all knew it would be, being contested by President Donald J. Trump, his staff, and the GOP party in the handful of states that were razor-thin calls on the part of the mainstream national media and according to many conservative media outlets and polls.
Closer to home, and in addition to the obvious political races on the ballot, a "big ticket" item for the City of Cherryville was the vote on the bond referendum, essentially three items actually on the Tuesday, Nov. 3 ballot, all concerned with getting the voters of the city to have their say on three items: namely bonds for downtown improvement; bonds for water improvement; and bonds for sewer improvement.
With all three of Cherryville's precincts reporting in, the numbers for the downtown improvement bonds was 1,612, or 56.23 percent for it versus 1,255, or 43.77 percent against the bond. That bond vote was a little closer than the remaining two; bonds for water system improvements, 2,139, or 73.89 percent for the bonds opposed to 736 (or 26.11 percent) against it. The bonds for the sewer system improvements was 2,140, or 74.02 percent, for said bonds as opposed to 751, or 25.98 percent, against the sewer bonds.
City of Cherryville City Manager/Fire Chief Jeff Cash said of the vote outcome, "We are elated with the election outcome. The bonds for water, sewer and downtown were all approved by the majority of our Cherryville voting citizens.
"We are also excited to get to work with the final drawings and bid work
or the  projects  to  begin.  If everything
falls in place as expected, we should begin to see activity with these projects in April or May (2021)."
Mr. Cash continued, "We thank the citizens for believing in our vision, goals and objectives. Our Mayor, City Council and staff have worked very hard on our vision. We are such a blessed community. Once again, thank you for your vote of confidence and your support."
The three Cherryville precincts (35, 36, and 37) all reported higher than normal early voting, as was evidenced by the numerous printouts with early voter's names on there. However, Chief Judges Chip Childers, Becky Wood, and Mark Moss all noted they and their staff's stayed busy from the minute the polls opened until they closed.
Childers and his crew of Michelle Hoffman, Leslie Lopez, Sherri Hayes, Iris Walls, and Jeannie Kiser; Moss and his crew of Brenda Beam, Dana Sturgill, Berniece Harris, Judy McSwain, Sam Allen, and Grayson Eubanks; and Wood and her crew of Bess Thornburg, Suzette Smith, Dianne Jenkins, Chris Barnett, Ron Beam, Wendi Beam, Pam Abernathy, and David Whitesides all noted voter turnout as being "steady" for most of the morning, once again attributing the lower physical turnout to the way folks cast their ballots either through mail-in voting or by voting early, in Cherryville's case, at the Cherryville Fire Department.
Said Childers, "This is the biggest turnout I've seen since the last (presidential) election. We have certainly had a large early voter turnout."
Though Ms. Wood noted their voter numbers as of 6:30 a.m., election day morning (Nov. 3) have been slow getting started. However, she said, "Though it (the turnout) since that time has been a little slower than we usually have had in the past, it picked up and has been the biggest I've seen since so far." As an example, she noted that of the roughly 1,400 registered voters in their precinct (#35), about 1,153 had voted early.
Moss, Chief Judge at the largest of Cherryville's voting precincts (#36), said he believes over 60 percent of those registered in their precinct had voted early.
Said Moss, "Counting early voting, this is the largest turnout I've ever seen. An amazing number of first-time voters have come out and we've given many of them a short course on how the process works. That group has been a mix of young and old."
Moss continued, "We have never seen an election like this. North Carolina has never been as crucial to the election process as we are this year."
According to the Gaston County Board of Elections web site, as of Wednesday, Nov. 4, 100 percent of the county's precincts reported in (46 of 46) and 75.26 percent of the ballots were cast (114,140 voters out of a total of 151,667), with (at that time) an unofficial number of 72,132 votes (63.39 percent) cast for President Trump and 40,231 (35.36 percent) cast for Joe Biden.
In the Governor's race, Lt. Gov., and challenger Dan Forest did well in Gaston County (68,362, or 60.37 percent) to Current Gov. Roy Cooper's 43,272 (or 38.21 percent) but Cooper managed to get re-elected.
Republicans fared well overall in Gaston County as Sen. Thom Tillis grabbed more than 60 percent of the votes in his run to stave off challenger Democrat Cal Cunningham. Rep. Virginia Foxx  had 62.99 percent of the votes (68,303) to defeat challenger David Wilson Brown for her seat. Mark Robinson, a Republican, won the seat of Lt. Gov., and will be the state's first black Lt. Gov.
Other Republicans who fared well in the county, were Representatives John Torbett, Kelly Hastings, Dana Bumgardner, Sen. Kathy Harrington, and Sen. Ted Alexander.
Newcomer Donald Rice defeated Judge Richard Abernathy in the county to take a seat on the District Court bench. Judge Abernathy had been seated since 2007.
In other election news, Cherryville Commissioner Allen Fraley was re-elected by voters. Former Cherryville educator Beverly "Robbie" Lovelace defeated incumbent Cherryville Township board member Terry Usery for the right to represent the town at the school board meetings. In addition to defeating Mr. Usery, she also had the lead over Mr. Daniel Ware, who was running for the seat as well.
For more information on the unofficial election results please go the Gaston County Board of elections web site at https://er.ncsbe.gov/?election.