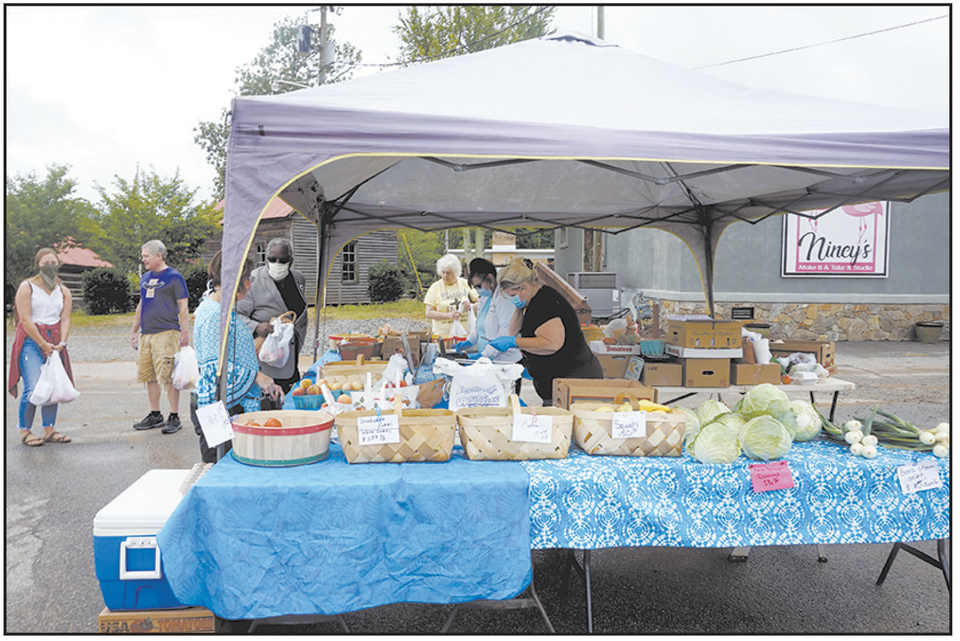 Farmer's Market
first day goes well
Customers glad to see familiar market back in business even if a month late in opening
by MICHAEL E. POWELL
Editor
michael@cfmedia.info
Cherryville first Farmer's Market of 2020, a.k.a. the "quarantine year", was well attended in spite of starting a month late and looking a little different than what most are used to seeing.
Market manager and Chamber Director Mary Beth Tackett said they had over 200 shoppers come by for the market's first day back in business after the COVID-19 pandemic shutdown of markets across the state.
Said Mary Beth, "We had over 110 (customers) by our 8 a.m., opening, which wasn't a bad showing for a first day of a market."
Tackett also noted there were five vendors at this first 2020 market, with a "fan favorite" returning – Martha Pate of Pate's Bakery, along with the other "food faves" of Lewis Farms, Leonhardt Farms and Sisk Farms. A newcomer for the CFM this year was Hospice of Cleveland County, whose booth was overseen by Krista Haynes, the Patient/Family Care Coordinator. The group is also a CFM sponsor.
If it looked like there was great space between the vendors, don't worry, that was planned, said Mary Beth.
"We were practicing social distancing. All our vendors have to wear masks as well," she added.
Leonhardt Farms' vendor operators Ann Hall and Gail McGloghlin were back, as was Loyd Lewis of Lewis Farms (Fallston) and Noah Sisk of Sisk Farms.
Hall and McGloghlin both said they were glad to be back at the Cherryville Farmer's Market. Ms. Pate agreed, saying she too was glad to be back in Cherryville at the much-loved market.
"Well, here I am! The cake and bread lady's back! Honestly, I've missed everybody here in Cherryville, and I'm just gad to be back!" she said, with her characteristic big smile.
Loyd Lewis pulled his face mask down and said he too was glad to be back, adding, "It's good to see that with this virus going on the people all came prepared, wearing their face masks. We'll be able to continue the market with these good (heath) standards."
Tackett noted that as the summer progresses, they will get more vendors back at the CFM.
When asked, she replied, "Yes. Freedom Farms Soaps will be back, and I am working to get new vendors added for this season."
Customer Ron Tedder had on his face mask as he shopped for great food deals, making sure to check out each vendor before her left. He stopped to chat a bit with former CFM manager, Richard Randall, who dropped by to also pick up a few items of fresh produce before heading back to work.
Said Mr. Tedder, "I'm glad for the Cherryville market to be back open. They have great produce here!"