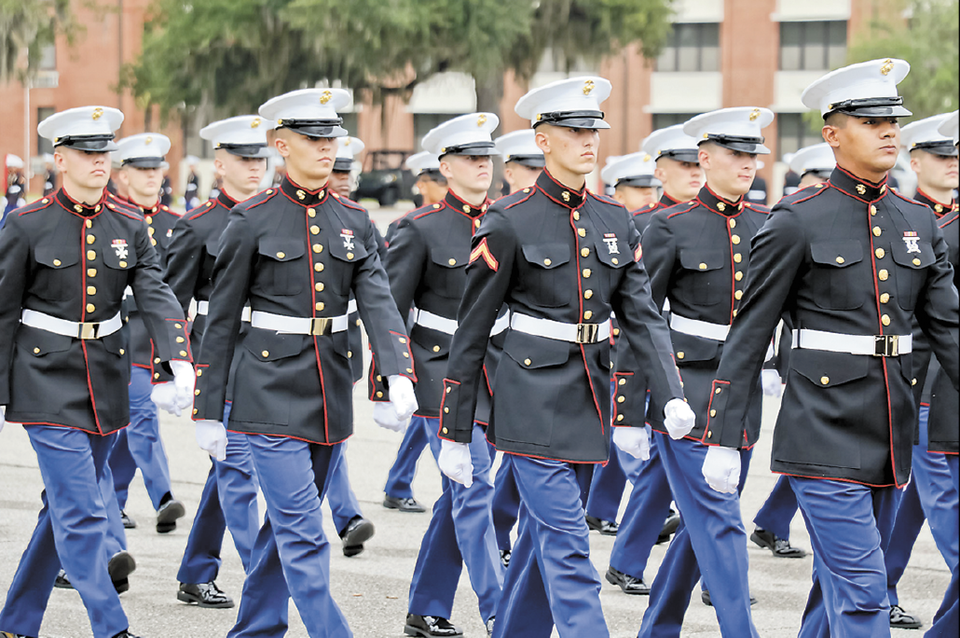 2020 CHS grad, football player, now a USMC  boot camp grad
by MICHAEL E. POWELL
Editor
michael@cfmedia.info

Ever since he was a six-year-old, Jerran Croft, formerly of Cherryville, and the son of Robin and Jesse Croft, knew he was going to be a Marine. At least that's what he told them, and he never wavered, according to them, from that path.
The Croft's; dad's a laser operator at LeeBoy in Lincolnton, and mom works for Southwood Realty and is the property manager of Park Terrace Apartments in Bessemer City, said Jerran, a 2020 graduate of Cherryville High School, recently had another graduation ceremony, one for the United States Marine Corps at Parris Island on Nov. 13, 2020.
Mrs. Croft said, "Jerran told me when he was six years old, 'Mom, I am going to be a Marine.' He was born right after 9/11 and the country was extremely patriotic there for awhile, so I think maybe that's what led him to want to be a Marine.
"I thought it would pass, but he never wavered. When he was 17 he asked us to sign for him. The Marine Corps has always been his only choice. He said he wanted to 'be a part of the baddest and toughest', and to him that was the Marines."
After his graduation from boot camp, Robin said he was continuing his combat training somewhere in North Carolina, but noted she can't say where that is due to national security concerns.
Though she said neither she nor his dad were in the military, Jerran was adamant in his choice of which branch of the service he wished to serve with. She added, "Jerran has enlisted for four years active and two years inactive service and has said that he wants to make a career out of it."
Mrs. Croft said Jerran's "MOS", or school of training, is Construction Engineer.
She said, "He said he intends to go to trade school while he is there and learn a trade that goes along with his job. He intends to get all of the schooling he can while in the Marines."
While a student at Cherryville High School Jerran was a wide receiver and cornerback all four years he was there.
Said Robin, "Even though Jerran's decision was very hard on our family at first, we have learned to accept his decision, because it was his decision, not ours.
"We are so very proud of him and honored that he is one of the few that is willing to give it all for his country. I believe all people in the military must have a higher calling from God to do what they do. I am so thankful for each and every  one of them! They truly are very special people!"
Mrs. Croft continued, "Jerran is the youngest of four. My oldest daughter, Sierra Croft, graduated from NC State in 2017 with a Chemical Engineering degree. My other son, Jesse Croft, II, went to Cape Fear Community College but decided to come home and go to work. My youngest daughter, Savannah Croft, graduated this year from NC State with a Sustainable Materials and Technology degree, and then there is Jerran, my Marine."
The Croft's don't yet know where their son will be posted, but they know he will give the Marines 110 percent, because that's the kind of guy he is.
Cherryville High School has a proud and storied history of its students serving in the various branches of the U.S. military.
Ironman Jerran Croft now joins those ranks, continuing to make his mark as a part of that great bunch of young men and women who have served and continue to serve their country.