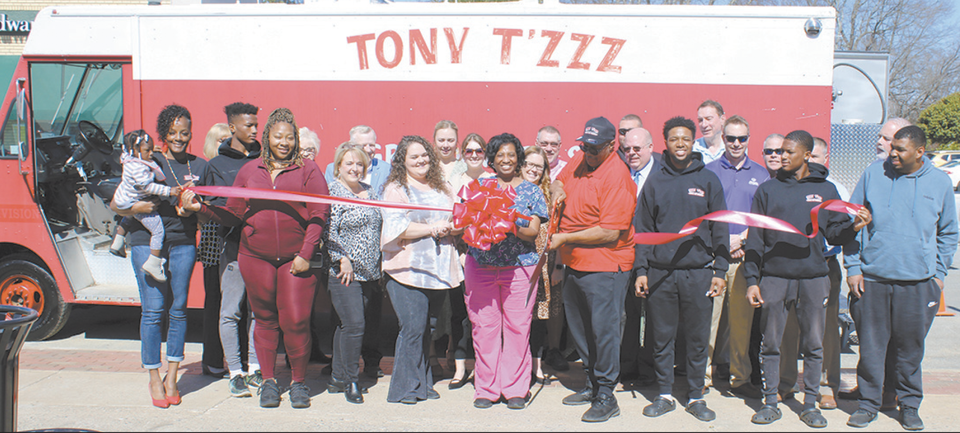 Tony Tzzz's "Grill on Wheels" to be a great addition to Downtown
by MICHAEL E. POWELL
Editor
michael@cfmedia.info

Long a sight at the City's many festivals, as well as more than a few other festivals around Gaston County as well, Cherryville was pleased to announce last Thursday's, March 3, ribbon cutting for Tony Tzzz's "Grill on Wheels" Food Truck.
The food truck is the brainchild of Chris Degree and is well-known for its wonderful and flavorful food, cooked up and served with love and smiles.
Chris said his business, which has been around for quite a while, was named in honor of his oldest son, Tony, who was sadly killed in a car accident on Oct. 18, 1989.
"I have retired from Freightliner," said Chris, "and I have done quite a lot of festivals in Cherryville and around the county. I am hoping we get to get here, weather permitting, every Friday and set up and cook some good food."
Working with Chris are his son, C.J. Degree, 23, a well-known CHS athlete, and daughter, Brittany. His grandsons, Demario and Christian Chalk were also on hand helping out with getting things set up for the ribbon cutting. His oldest daughter is Chrissy, he said, and he that the family will also help out with the cooking tasks once things get going.
He laughed and said, "I've already had people stopping and asking me if they could order food! I had to tell them this was just for our ribbon cutting but that we would be back!"
Degree noted city's and county's have designated spots for food trucks to set up in so as not to impede traffic flow and such.
"I have been doing this for 20-plus years," he said, adding, "I do this to remember Tony. We are usually here at the festivals all the time, except for when we couldn't because of COVID."
Chamber Board of Directors Chairman Pete Craft welcomed Chris and his family, saying, "We're glad to have you here and to see this good turnout. The weather is great also. Chris, we wish you well in your endeavor. If there is anything the Chamber can do for you don't hesitate to let us know."
Mayor H.L. Beam, III, agreed, adding, "It's a beautiful day here in the City Where Life Blossoms, and it's a great day to recognize such a unique business, which is also a mobile business. We wish you much success and want to thank you all for choosing Cherryville and thank you for providing Cherryville with such a great service!"
Main Street Chairperson, Donna Beringer also welcomed Chris and his family, adding, "I just want to say thank you for coming here and for providing this service to Cherryville. If there is anything we can do for you all, please let us know."
Chris said, though he wasn't "much of a talker", as he put it, he said, "We are glad to be here. We will serve you right. We do this the right way. Thank all of you for coming out."
This was the first ribbon cutting, noted Craft and Mary Beth Tackett, for new Chamber Board members Barry Heavner (Houser Drug), Johnny Brown (Allstate Insurance), Emily Blackburn (Piedmont Lithium), and Sarah Chambers (Peak Resources).