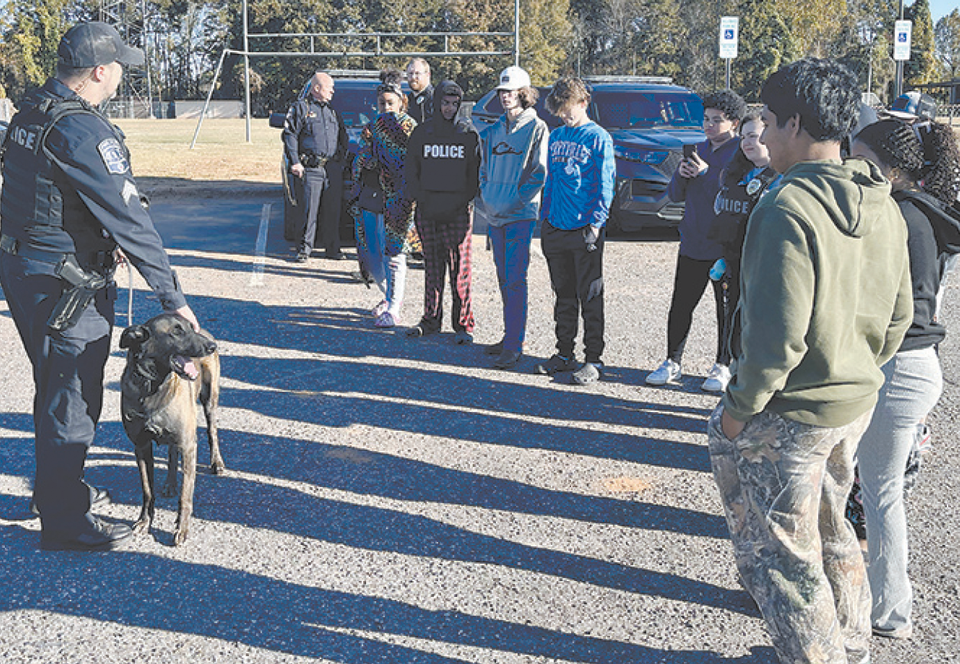 CPD officers talk to CHS students
Kids got a real chance to learn about the public safety job and get hands-on experience

by MICHAEL E. POWELL
Editor
michael@cfmedia.infomichael@cfmedia.info

Recently, a group of Cherryville Police Department officers went to Cherryville High School in order to speak to a group of students about their roles as public safety officers.
Sergeant Vince Burleson said of the event, "I originally approached Mark Johnson, the public safety instructor at the high school, about letting us schedule a time to come and do a presentation for the students."
Burleson noted the purpose behind the meeting with the students  was to showcase the department to the high school youth and to give the students some exposure to those that may have an interest in the law enforcement field, he added.
Said Sgt. Burleson, "We met with three classes of approximately 60 kids throughout the day and we displayed the various uniforms we wear, the equipment and such that's used on a day-to-day, and we basis demonstrated the use of the narcotics K9 search dog. We also let them look at and sit in the patrol car and let them have some hands-on exposure to some of the equipment we use and carry."
The equipment Burleson mentioned, for example, included a ballistic vest, a taser, the duty belt, and such.
"We answered various questions regarding patrol operations and gave them a general overview of what we do," said Sgt. Burleson.
Some of the other officers with Sgt. Burleson that day were Sgt. Derek Thom, and Patrol Officers Garrett Burleson and Jessica Richards.