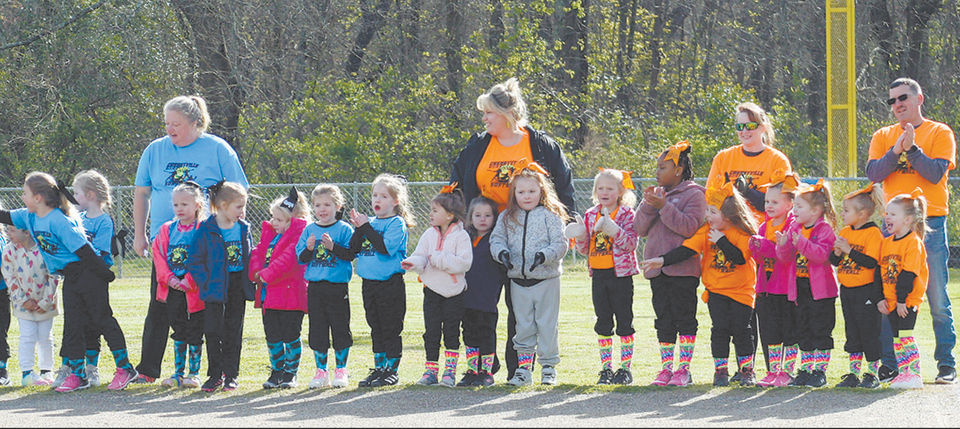 Dixie Girls Softball have Opening Day ceremonies Saturday, March 18
In spite of the cold weather all the young ladies came ready and excited to play ball!

by MICHAEL E. POWELL
Editor
michael@cfmedia.info

Although it was a cold March day last Saturday, the sky was somewhat blue with a few clouds and everyone was excited to see the start of another year of Dixie Girls Softball.
C.V. Thornburg Field at Ballard Park saw 146 girls of all ages and sizes happily come out to welcome another year of amazing youth softball. Along with them were their equally excited and supportive parents, grandparents and friends and family who always come out to watch as another year gets under way.
DGSB President Daniel McBride and many board members were on hand to start things out with the line-up of the girls and to hear opening day comments, a prayer, and the National Anthem get things going.
Pastor Will Upchurch prayed God's blessing on those in attendance and asked Him to watch over everyone and let this games be played in a spirit of good sportsmanship and fun, then McKenzie Auten sang the National Anthem. McBride asked the young ladies to give their parents, grandparents and guardians a big hand, which they did happily.
"We are all here," noted McBride, "to support the girls!"
He went on to welcome the representative's of the city, Mayor Pro-Tem and Councilwoman Jill Parker-Puett and Councilman Jon Abernethy. He also welcomed and thanked those on the DGSB Board; Matthew Anthony (VP); Sandy Cunningham (Commissioner); and Connie Metwally (treasurer); as well as Anjelica Cunningham, Wes and Dorothy Brown, Nicole Walker, Nicole Ogle, Natalie Poston, Pam McSwain, Mark Watson, and Michael Philbeck.
Mr. McBride then went on to call all the girls and their coaches onto the field by their team, starting with the "T-ball" division, the Sweetees, then the Coach Pitch division, the Darlings, followed by the 10U division, the Angels; the 12U division, the Ponytails; and the 15U division, the Belles-Debs.
Daniel and Mark Watson thanked their supporters and businesses, asking folks to in turn support these businesses whose names appear on the shirts of the young ladies playing Dixie Girls Softball.
Mrs. Puett spoke and said, "Cherryville is a ball town, whether baseball or softball. everywhere I go when I travel for the city, people know that's who we are and what we support. Without the parents, families, and coaches, all of this would not be possible. Thank you so much for your support. Without you, none of this would be possible. We are proud of you all."
McBride then recognized candy sales prize winners. The three young ladies were Sadie Patterson; Kaitlyn Coleman; and Gracie Canipe. Two young ladies who also received great prizes were Allison Gozalkowski and Brooklyn Cunningham.
The first pitch was thrown out by DGSB's own World Series Champion Head Coach, Matthew Anthony, who pitched to his daughter, Faith.
"Faith played here for years," said Daniel, adding, "And she is now giving back by umpiring and coaching."
There are three Sweetees teams, sponsored by the following businesses: Rustic Roots Salon & Spa; Ferguson Ace Hardware; and Carolina Federal Credit Union; three Darlings teams, sponsored by the following businesses: Shamrock Accounting; Phil's Starter; and the Knights of Pythias; two Angels teams, sponsored by the following businesses: Georgia Beas Boutique, and Carpenter – Porter Funeral Home; two Ponytails' teams, sponsored by: Long Creek Presbyterian Church and Charming Travels, LLC; and two Belles-Debs teams, sponsored by Shamrock Sound Design and Turner Animal Clinic.
McBride noted the leagues' regular season started Monday, March 20, adding there are no games during the Easter Break (Monday, April 10 through Friday, April 14).
"The mid-season tournament will be Saturday, April 22 and the end-of-season tournament will be held on Saturday, June 3. The District Two Tournament is on Friday, June 16 through Sunday, June 18, and will be hosted by Bessemer City. The North Carolina State Tournament will be from July 7 to July 12," he said.