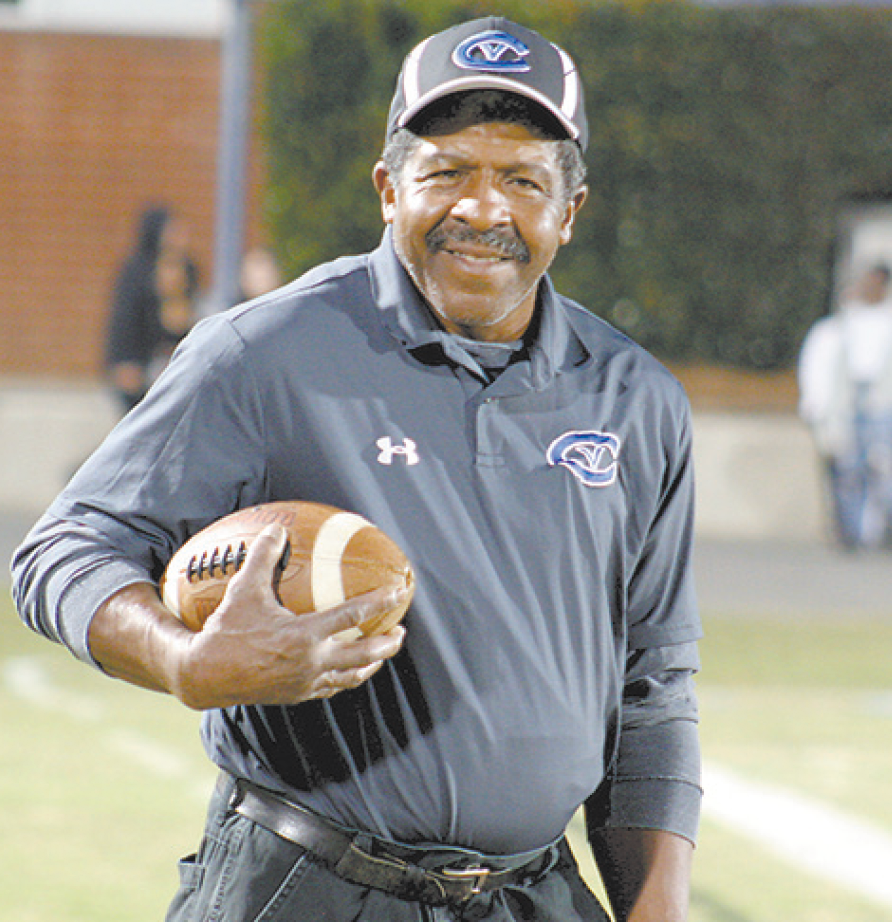 CHS' Montgomery chosen as the 2022 Christmas Parade Grand Marshal
Says he's just "…
a regular guy who works every day!"

by MICHAEL E. POWELL
Editor
michael@cfmedia.info

Add another accolade to Lee Roy Montgomery's list of honors and accomplishments – he has been chosen to be the 2022 Cherryville Christmas Parade's Grand Marshal. The parade is Dec. 10, at 10:30 a.m.a
In an Oct. 26, 2022 Eagle article, Lee Roy was reported as being, "…a living, breathing sports icon and not just for his beloved Ironmen," but now he can add one more thing to his growing list of things he is well known for.
CHS Athletic Director Scott Harrill asked Lee Roy what he thought when he found out about being chosen to be the parade's GM.
Said Harrill, "Lee Roy said it was a very big surprise to be picked to be the Grand Marshal."
Lee also added, "I've never done anything like this before. (I'll be) so excited to see everyone that morning. I love Cherryville! I am really excited – and shocked – that they picked me. I'm just a regular guy who works every day."
Additionally, Lee Roy noted he looking forward to seeing all the great people of Cherryville, adding, "I love everyone here in Cherryville. These are my friends. I want to thank all the people who always support me."
He continued, "This is not about me; it is about everyone who has always been so nice to me and helped work with me. The people at CHS, the people around town, the coaches, the fans, just everybody!"
When asked what Cherryville means to him, Lee said, "It means a whole lot to me. I was raised here, went to school here. People know me. It puts a smile on my face when people say, "Hey Lee Roy!' It just means everything to me; to see the families I went to school with have kids come through school."
Lee Roy was asked what words of advice he could give people in Cherryville. He replied, "I try to treat everyone like they are special. Live a life thanking God every day. God gave me a great life. He blesses me every day. Try to live for Him and treat everyone nice."
Lee Roy continued, "My wife, Bertha is a great blessing, and my best friend. She has been so supportive of all that I do. She loves the people of Cherryville."
Lee Roy said he has been married to his wife, Bertha, for 11 years and they had a recent anniversary – Nov. 10.
Lee graduated from CHS in 1982, works at CHS, starting there in 1993 as a custodian.
As for his feelings about being an Ironman and getting to work at his alma mater, he said, "The Ironmen have been good to me. I love all things about Cherryville and the Ironmen. If I could do it all over again I sure would!"
Previously, in last October's Eagle article, CHS Principal Shawn Hubers said, "Lee Roy is an amazing person! He is such a hard worker and is so dedicated to Cherryville High School. Everyone in our building loves Lee and respects him because of how hard he works and how he treats everyone he comes in contact with. Lee's dedication to CHS is unmatched and in my short time at CHS I couldn't imagine this place without him."
CHS AD Harrill, who has the greatest respect for the man, said of his friend and fellow worker in sports, "Lee Roy Montgomery is one of the best men I have ever known in my life. He is one of my true friends who will do anything in the world for me or anyone who needs help. He has a heart of gold and makes this world a better place. He is the true Ironman at Cherryville High School. Lee Roy graduated in 1982 and has been helping out with Cherryville sports for the last 40 years. He sure makes my job as a coach and Athletic Director much better. If you ever need to smile or laugh a little, hang out with Lee Roy. His wife is always supportive of Lee Roy and his role at CHS. Anywhere you go in the state of NC, one of the first questions opposing teams or communities ask is, 'Where is Lee Roy?!' He is known state-wide and deserves every accolade he receives!"
Again, look for Lee Roy at the Dec. 10, 2022 Cherryville Christmas Parade, which starts at 10:30 a.m.